I recently got my hands on Google SketchUp, and have been madly deck designing ever since. INTERNETS, FEAST YOUR EYES!!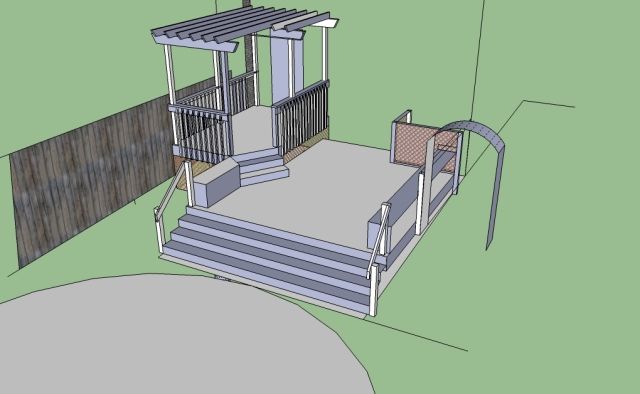 This is lacking only a few details - pickets on the stair railings, for instance, because they were just too damn fussy to be bothered rendering, and trellis on the fence along the west side leading up to the arbour, because SketchUp didn't want to make those surfaces a paintable "face" for some reason. I think - I
think
- I've taken everything else I've been reading about into account, down to the 1" a freestanding deck is supposed to be set back from the building.
Likewise there are only a couple of items whose code compliance I am uncertain of (I've assumed, for instance, that the pergola posts can double as railing posts and be framed into the floor system in the same way as railing posts, but I'm not actually sure if that will be adequate for the extra weight of the pergola AND the safety requirements of the railing...)
Design-wise, I'm not sure if this might not be too cluttered, but mostly it's stuff I couldn't figure out how to avoid - hadn't originally planned on the stair railings, but as it turns out I need four risers, which calls for them; don't need railings on the perimeter of the lower deck, but then the stair railings looked weird sitting there by themselves; a railing connecting the stair railing with the top level somehow would block in the strip of garden on the east side, so I threw in some built-in seating to fill out the line. The little trellised-in jog in the back west corner is to disguise the a/c unit. If anyone can see ways to generate a little more smooth continuity, I'd love to hear about it.