You'd think I would learn...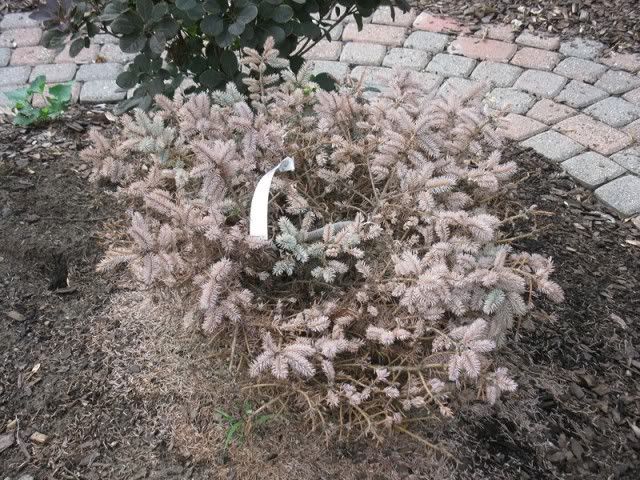 Note to self, AGAIN: midsummer is NOT the time to plant shrubs. Or dwarf trees for that matter. Sigh. Cooler weather seems to be on its way, so maybe I'll try again in the next month or two. At least the smokebush is still looking good.
Got the trellis up for the John Davis rose to climb on. It looks kind of more imposing than I expected, but as things start to fill up and out it should start to look more balanced.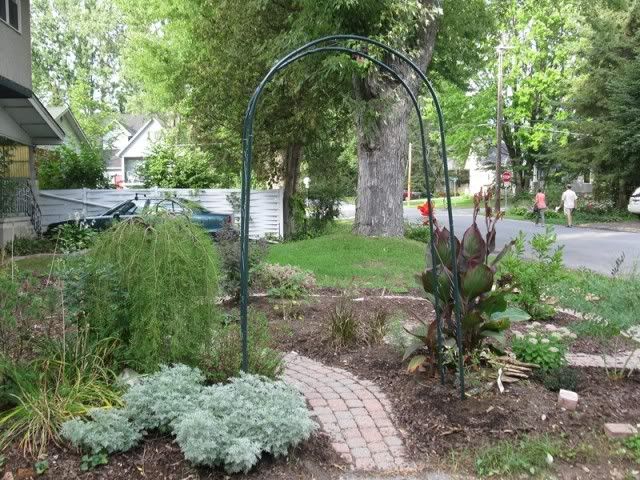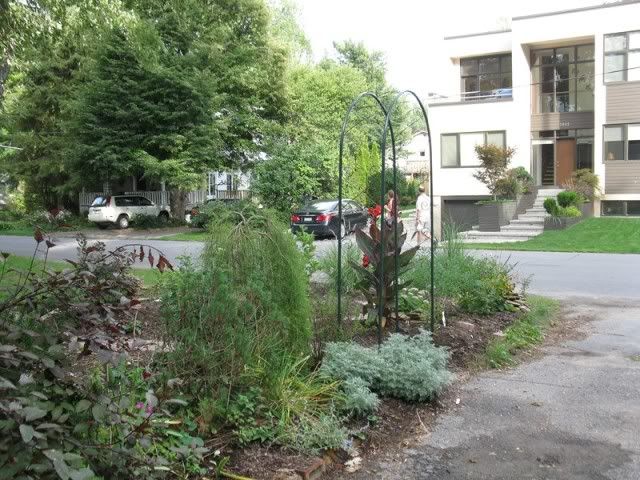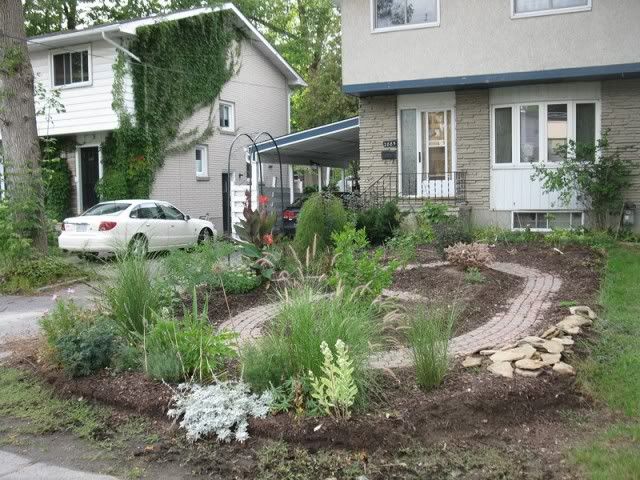 My other problem is that I don't think it's anchored very well, despite the 4" or 5" spikes on the bottom of the feet. In clay it might work better, but in the sand I've got, you can pull the whole thing over way too easily. Not sure how to fix this. The feet are too small to weigh down with bricks or rocks, and sinking the feet in concrete would be an awfully permanent setup. Maybe I could use the flat feet instead of the spikes, screw them to a board, and then bury the board a few inches deep?
Another noteworthy thing in these pictures is the canna lilies, which are pretty astonishing in their gorgeousness. The flowers are OK - a little ratty because I'm not sure whether/how to deadhead the things - but the purple foliage is awesome, and it's tall to boot. I'll try to remember to lift these in the fall, but if not, Lindenberg's prices on them are reasonable enough that I could treat them as annuals.
The butterfly bush is verrrry slowly getting around to blooming, and is still pretty shrimpy - maybe 1' tall with a few stalks on it. I remain skeptical about this thing; if it's going to die back to the ground every year, how is it going to manage to get any bigger than this? Maybe it will grow faster as its root system expands?
Not much new in the backyard. Phlox needs hoops next year, it flopped all over the place. I could pinch it, but don't know that I'd want it flowering much later. A couple of the sedums are floppy too, weirdly enough...as far as I knew, floppy sedums meant too-rich soil, and since when is that a problem in my yard? The internets should know whether I should pinch them back next year...ah, yes, as quoted on GardenWeb:
Plants can be cut back to 4 in. when they are about 8 in. tall, normally in early June. They could also be pinched at this time. Many gardeners prefer the results obtained from pinching as compared to cutting back, claiming that cutting back causes the plant to callus and break off in winter weather, whereas pinching does not.
Awesome. If that doesn't work I'll try moving them, apparently part shade can have this effect.