Front Yard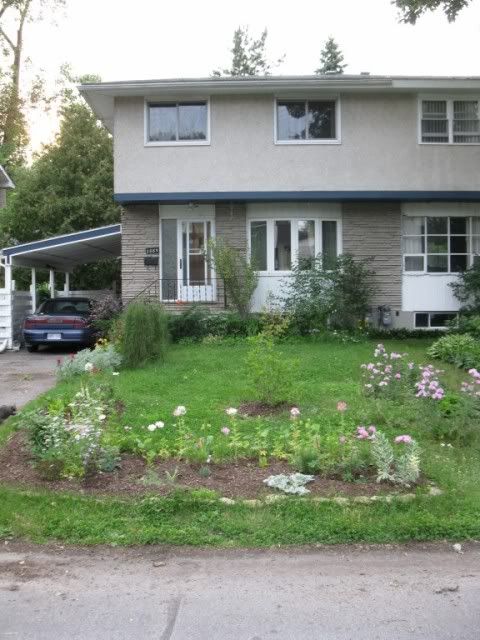 w00t, flowers! Cleome, mostly; either I accidentally picked a dwarf variety (again!) or they liked all the rain we got last year, because these are a lot shrimpier than the ones I had out back. Still, they're colourful.
This photo also features a swath of pink mallows that popped up in the - ahem - "lawn". They self-seed most perniciously, but they are pretty, and it's not like anything else is much inclined to grow in that patch of dirt. So let them do their thing and eventually I'll get around to building another bed around them.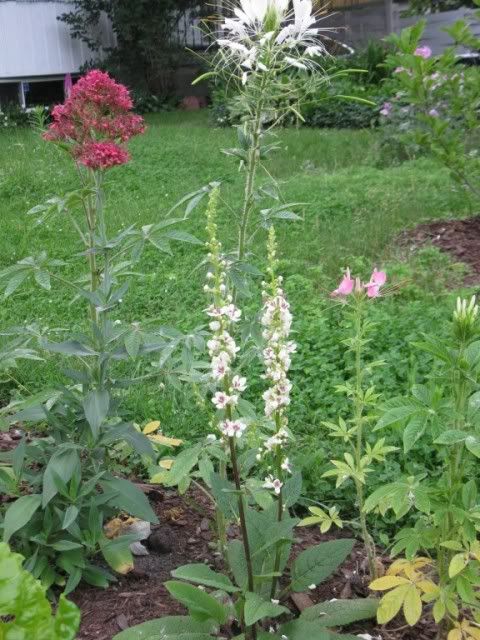 Closer up: cleome, jupiter's beard, and mullein. Mini-mullein, really. I wasn't expecting it to bloom this year. They are supposed to get pretty massive - maybe this variety doesn't, or maybe it's just biding its time for next year, like the delphiniums did.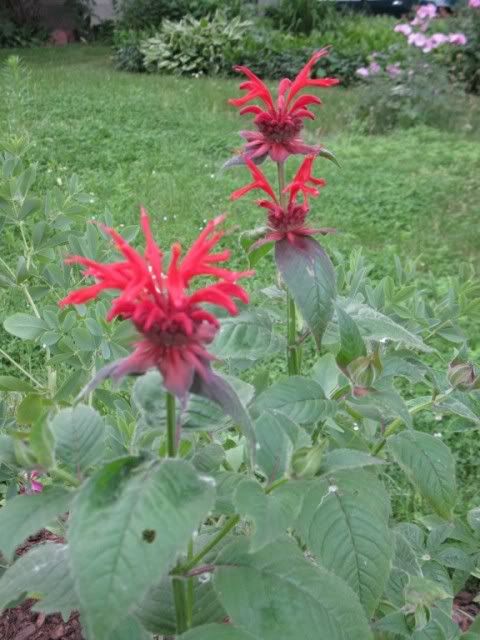 Super-awesome fiery red bee balm. This stuff gets taller than I thought, as I will exclaim about below re the backyard, but not before the baptisia blooms, so it can take over when the baptisia fades into the background. Or so the theory goes.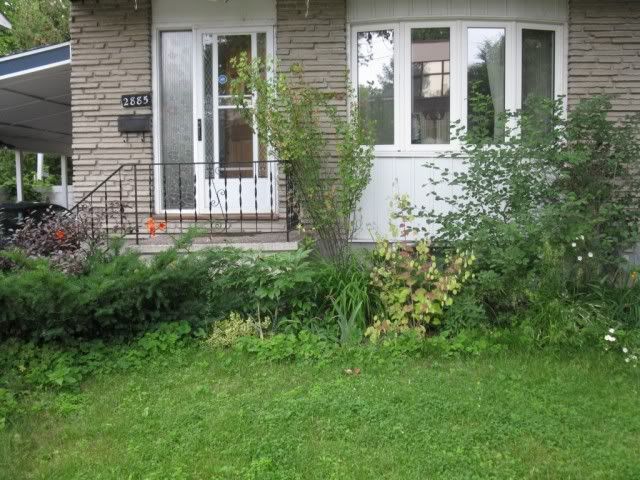 Siiiiiigh. Need to devote some attention to the foundation bed, because it looks like crap right now. A fringe of violets of doom around the edge, a random-looking tree that I strongly suspect is a weed, a ridiculous tree that is rapidly outgrowing its allotted space and never gets enough water so it's always browning and clearly stressed, a massive yew making a bid for total takeover, peony foliage completely overshadowing everything around it. Also hidden behind the money plant (which looks much nicer in the photo than it does in real life right now) is a ratty-looking juniper.
I don't even know where to start. A lot of the problem here is that it's so insanely dry and shady thanks to the overhanging second floor, because I could rip out what's there, but WTF else would I do with it? For example, the trick will be to replace the ratty stressed out tree with something that (a) can either withstand the drought or climb towards the house from a few feet out and (b) has some height to it. My neighbour has virginia creeper climbing up around the door, which looks great, and conveniently I have one of those creeping unwelcome around the backyard, so that's a possibility. Could also try a clematis or a honeysuckle, but those actually need to be tied to something, so I'd have to rig one of those sneaky string trellises from Lee Valley.
Maybe I should just transplant some of the damn hydrangeas and ferns from the backyard and let them do their wild and woolly thing here while I figure something out.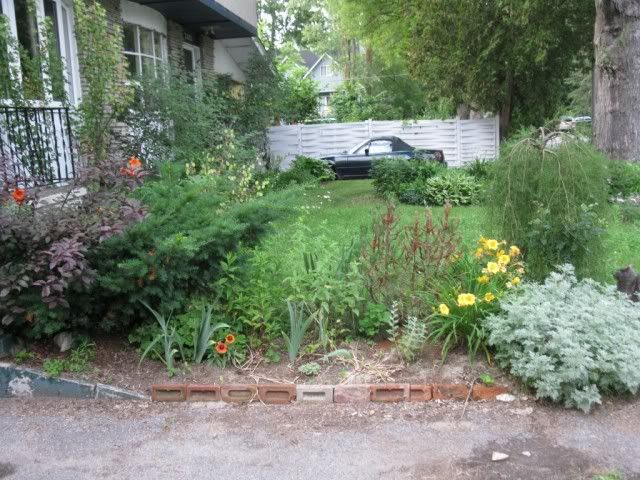 Somewhat nicer, but not without ugh and dismay. Again with the marauding yew. Google-fu tells me that you can prune the hell out of them, fortunately, so I'll have to give that a shot. And I have to remember to take soap and water to the mugho pine - goddamn sawflies - the larvae seem to have flown the coop, because it's not getting devoured any more, but the last thing I need is another set hatching out. Should fill up some of the empty dirt with some sort of low-growing ground cover stuff...relocate some of the dragon's blood stonecrop, maybe, since it got completely lost under the exploding artemisia. And that stupid freaking peashrub...ugh. I hate that thing, but every time I look at a picture I am forced to concede that its height and texture work well in that spot. Have to remember to prune all the stupid mildew-spotted suckers off the bottom.
Back Yard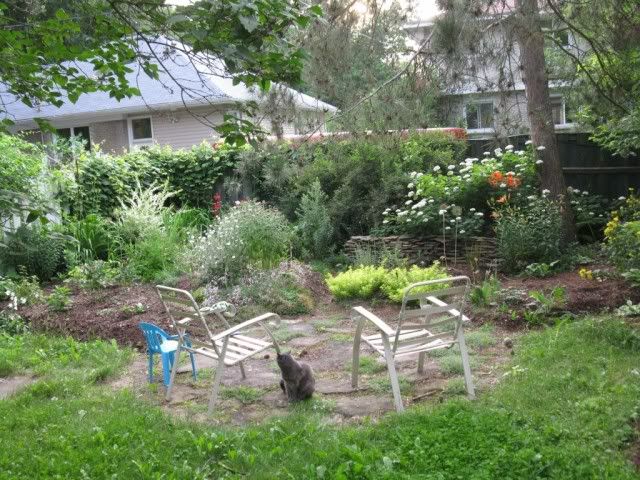 If I do say so myself, this is starting to look not half bad. Slightly closer but still general shots (featuring awesomely filling-in patio thyme!):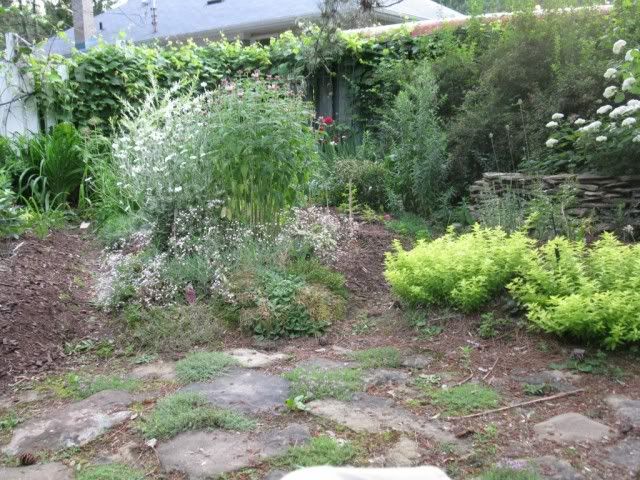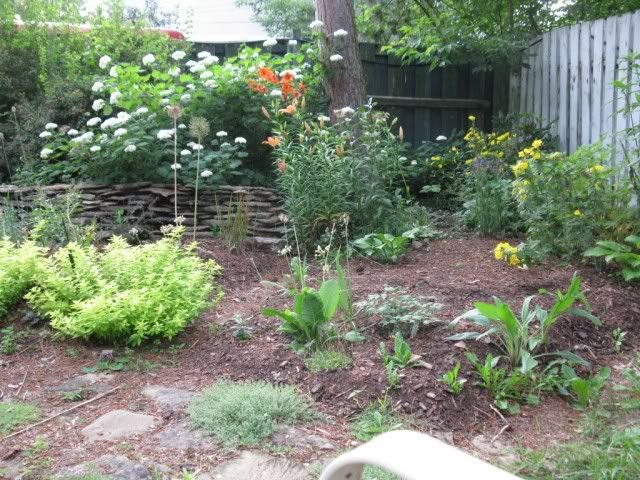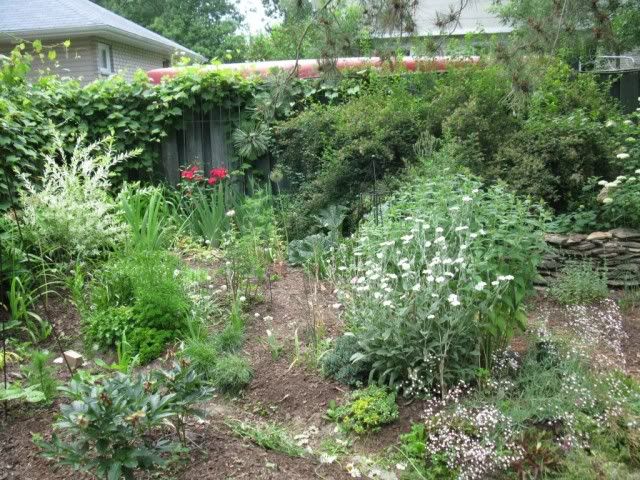 Another view of the sun bed, showing the surprising results of chopping down the daisies, which were winding down. I wonder if the crocosmia is actually going to bloom this year - it's put up about 3x as many leaves, anyway. The intarwebs say mid to late July, so here's hoping. One thing I really need to do in the fall is to divide that massive chunk of bee balm that I foolishly put in the front and move it around to different places where it won't block my view of the roses. Haven't decided about the rose campion yet, that one's a little airier in habit, but may do the same with it too.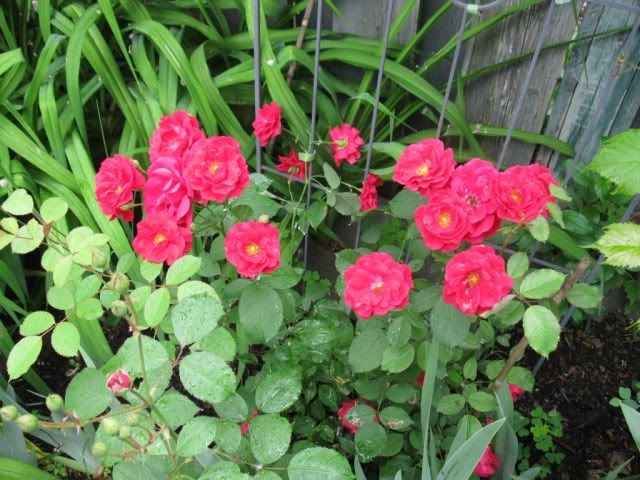 *happy sigh*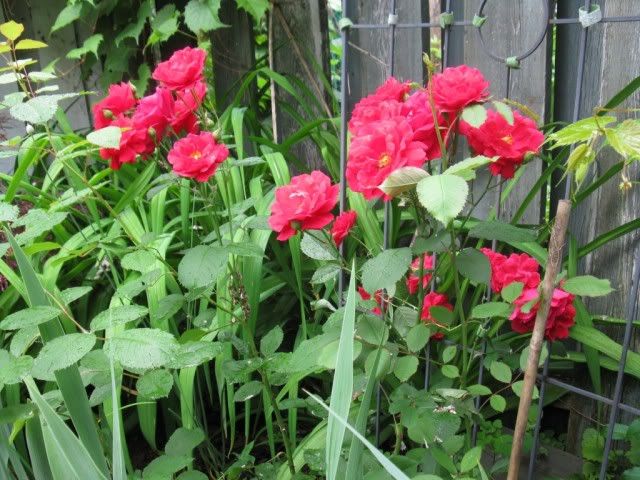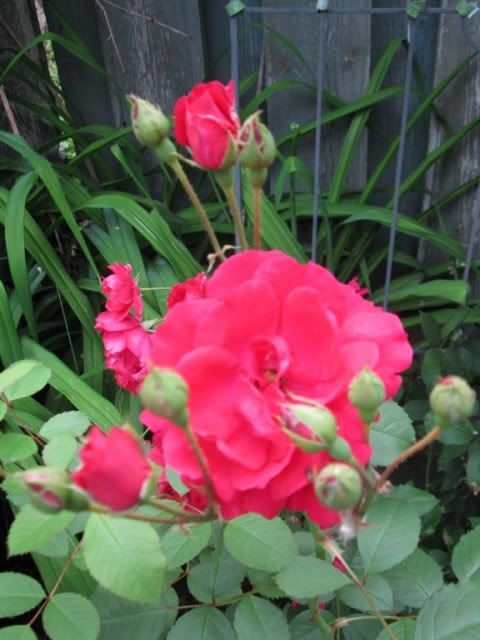 The only way I could be happier with this plant right now is if it had actually managed to, y'know, climb. But I prefer the flowers to height.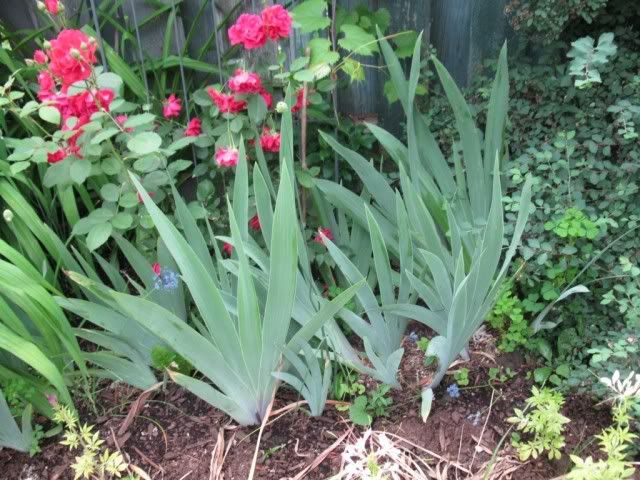 Right in front of the rose are irises of doom, which for some reason failed to bloom this year. They certainly look green and massive enough. I fear they may be overcrowded, but maybe they just need another year to get established. If they still don't produce anything next year I'll shuffle them around a bit.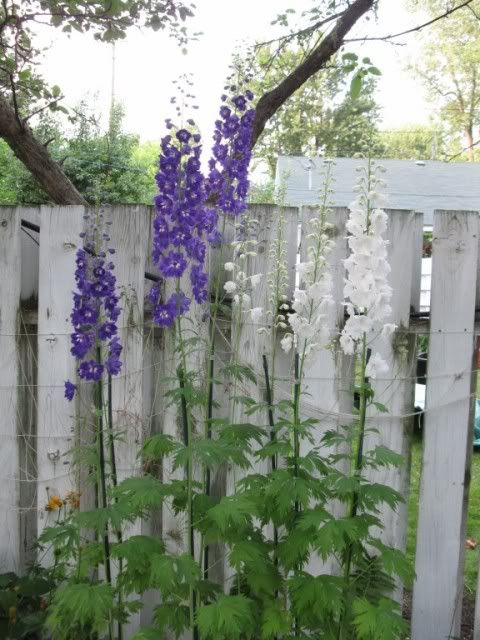 Delphiniums. Taller than ME. And yet not flopping over. Squeeeee!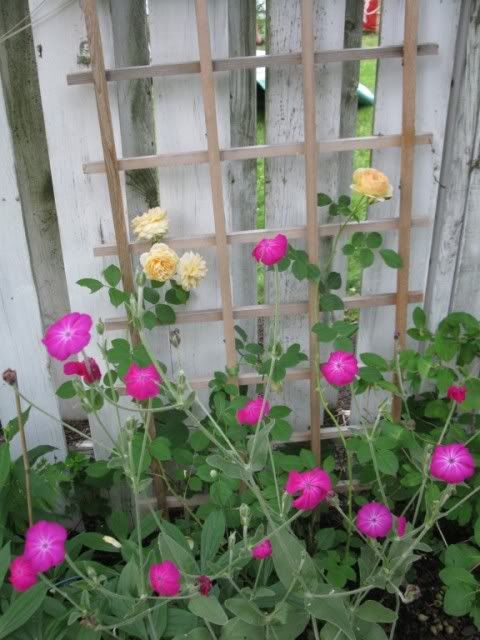 Rose campion and Teasing Georgia. Was totally not expecting the rose campion to survive over here, and it's not going as nuts as the stuff in the sun bed, but this is nothing to scoff at, I think.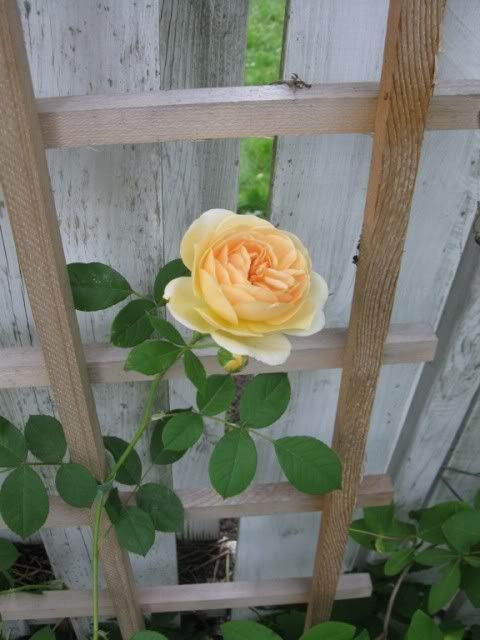 And Operation Sudden Lily Beetle Death has paid off. OMFG.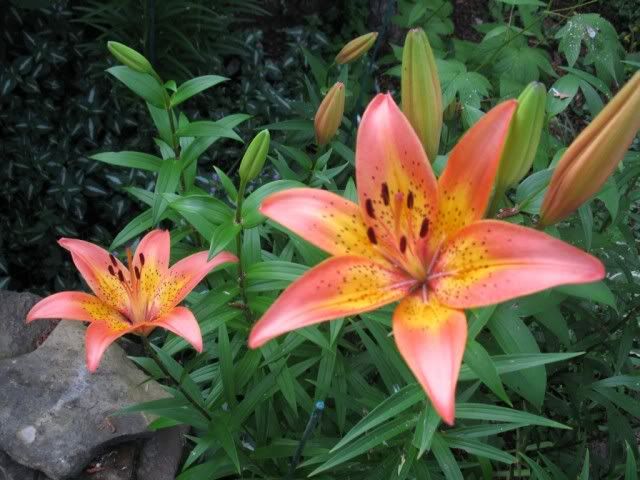 I didn't think the show could possibly be worth picking nasty shit-bugs for, but...man. Look at that. I may keep them after all.