Getting there!!
Front yard, 2011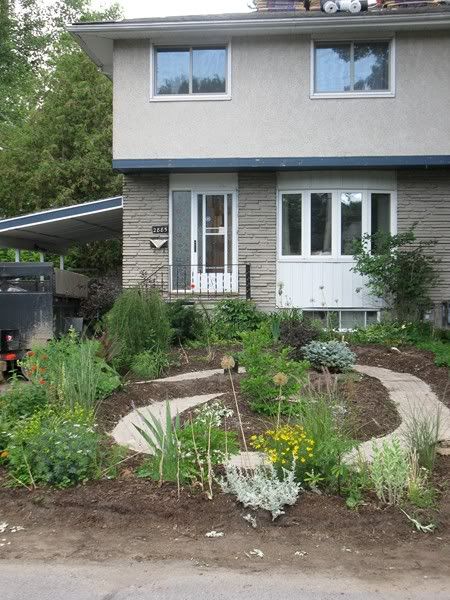 2010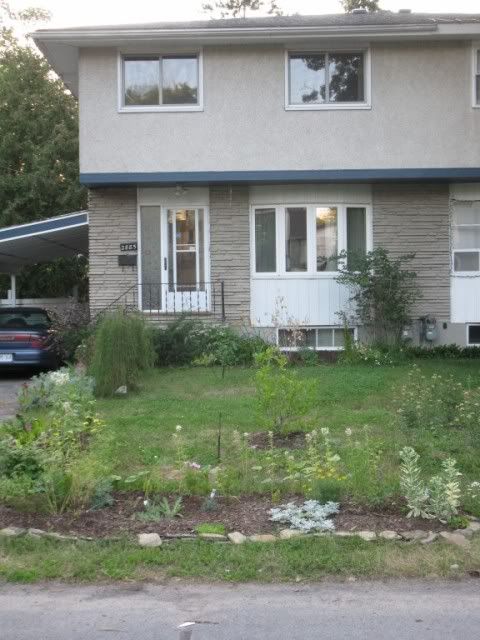 My schemey schemes, they ripen apace! Will have to keep repeating the purple and silver notes I'm acquiring, because I ♥ them so much - case in point: newly acquired smoke bush and Thume spruce.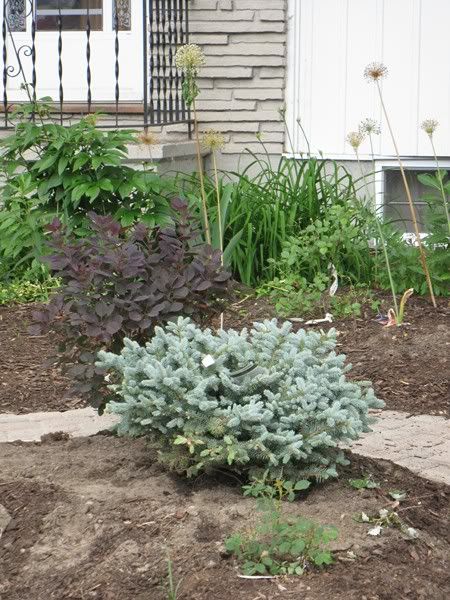 Latest purchase in this direction is some purple fountain grass, which I'm not 100% sure is hardy here, but Canadian Tire seems to think so, so we'll see. A "Fine Wine" weigela (compact and purple-green) would be a nice addition somewhere, I'm thinking, in addition to one of the splashy colourful "My Monet" kind. Our newly-dug bylaw-compliant trench at the very front will eventually be lined with some pea gravel and river-washed stone, which should make a nice grass-free front border for the yard.
Also need to keep an eye out for more splashy colourful drought-resistant midsummer-blooming perennials, like this maltese cross, which is working out pretty amazingly for a 2010 impulse buy:
The combination of coreopsis, lavender, and blue alliums in the very front is pretty awesome, too; will have to find things to keep building on that. More lavender in general, actually, since it's doing so well there. More alliums in general as well - maybe some chives? - since my roses have been suffering from the depredations of various insect plagues. GRRR. At least soap and water seems to be working, mostly, and they're almost all putting out new growth.
Back yard, 2011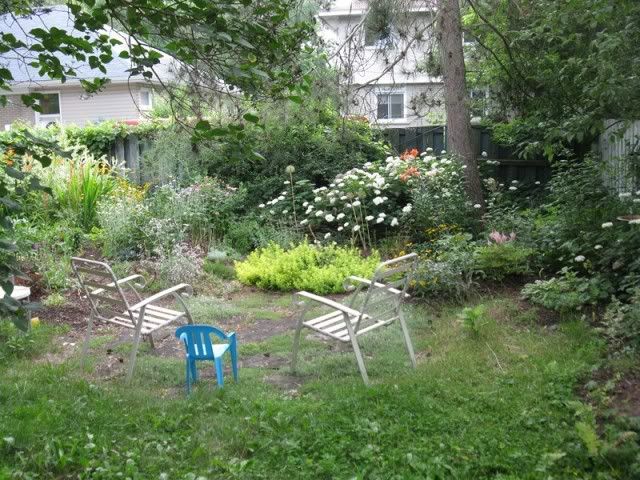 2010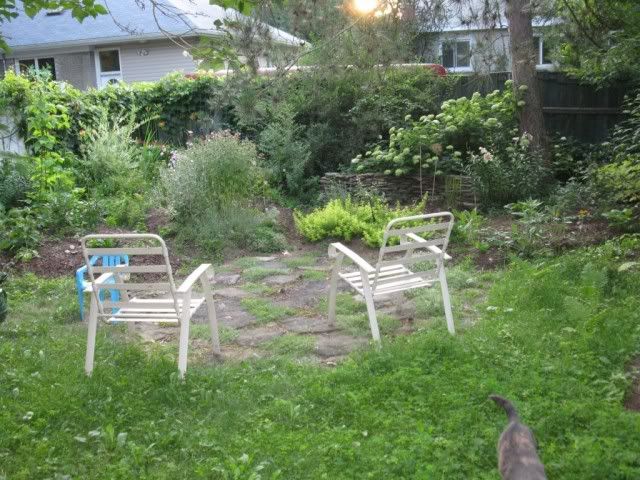 A little more civilized, a little better balanced, a little more filled in. Still not as colourful as I'd like on the shadier side - although I gather this is an ongoing shade challenge anyway...more colours of astilbe maybe? - and need to beat the hydrangeas back a bit around the birdbath. And the patio badly needs some sort of border to define it against the "lawn".
Going around the beds:
Shade bed, 2011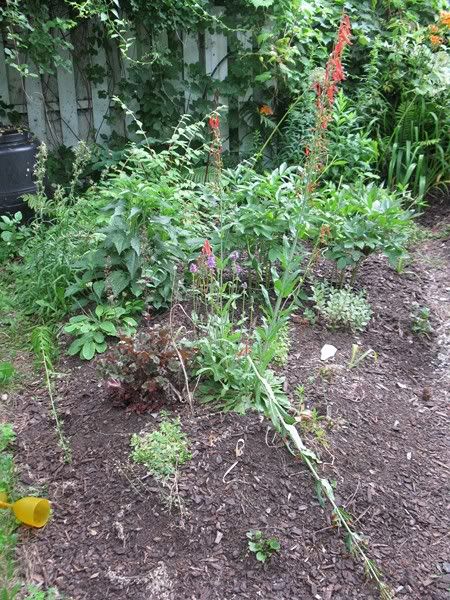 2010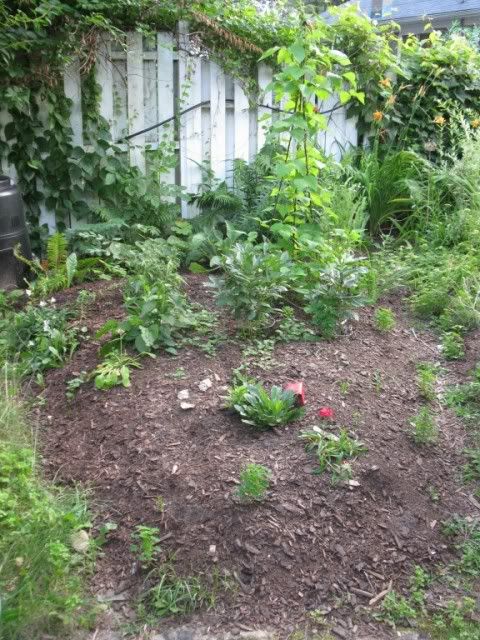 Tsk. Needs work. That anonymous tall red thing definitely needs to move further back. Otherwise need some definition and variation of texture in here somehow. Grasses? Astilbe near the back? More ground cover in the front?
Sun bed, 2011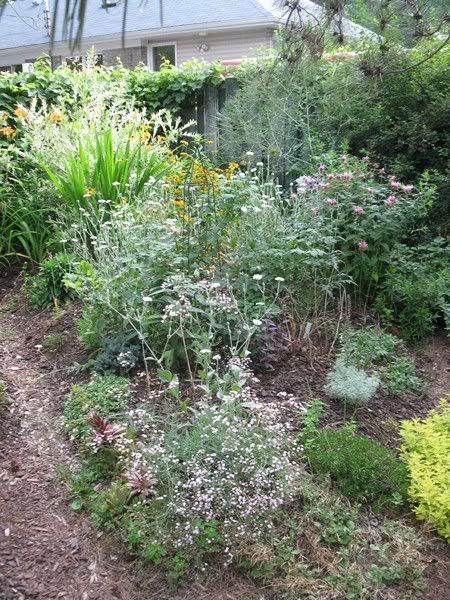 2010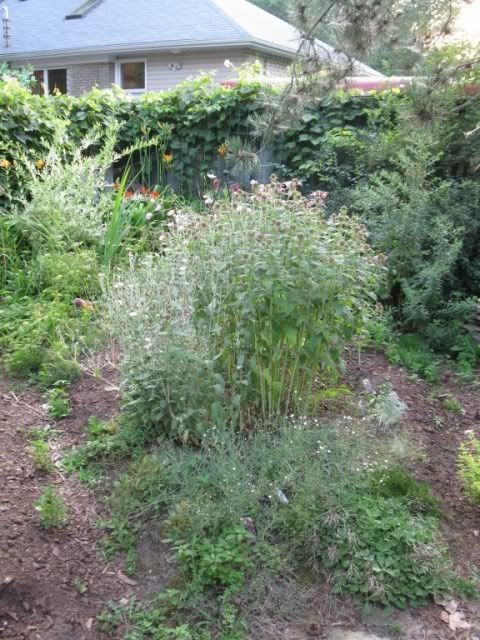 A little on the chaotic side, still - will have to be more ruthless with the stray rose campion - but the bee balm is definitely better off in its new home(s), and the Quadra rose will hopefully provide some nice height and colour at the back eventually, although I'm told it takes a while to get going. Maybe I should try some delphiniums back there, too, although I think it may be too ruthlessly hot and dry for them just there...although I suppose I've seen them growing in not-exactly-moist conditions around the neighbourhood.
In any case, there are some nice combinations emerging here as things start to form clumps - rose campion + bee balm + globe thistle, for example: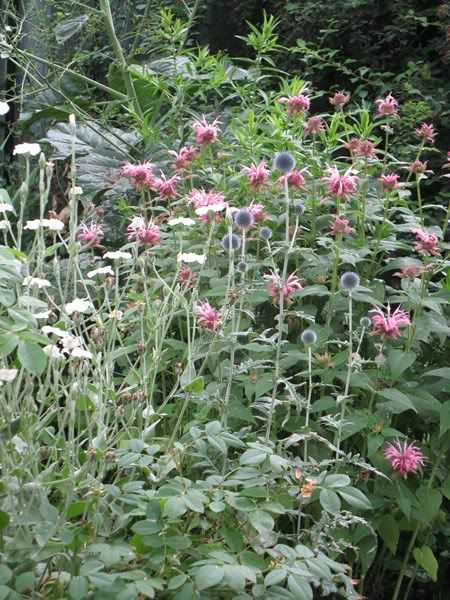 Wall bed, 2011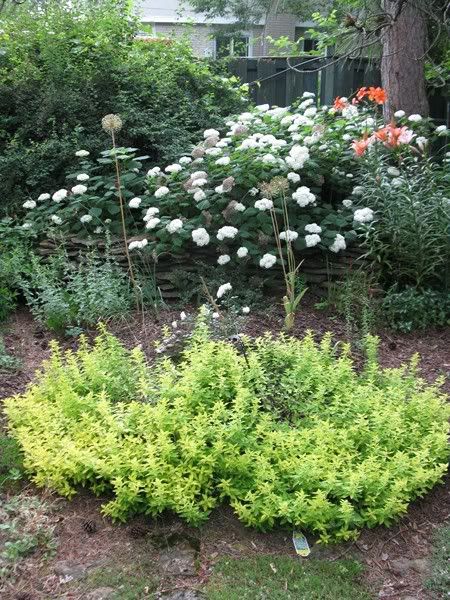 2010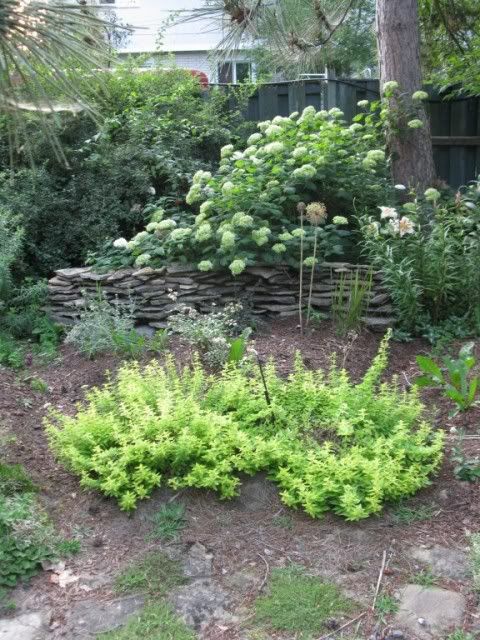 Another tsk. Disappointing lack of change here. Replaced the Fairy rose with Seafoam, but it needs some sort of other colour or texture between it and the hydrangeas or it just sort of fades into them. Will have to browse over my garden magazines and see if they have any combinations to suggest for hydrangeas.
Corner bed, 2011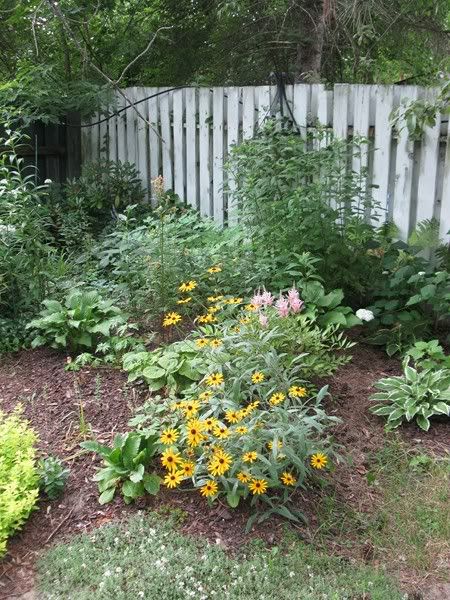 2010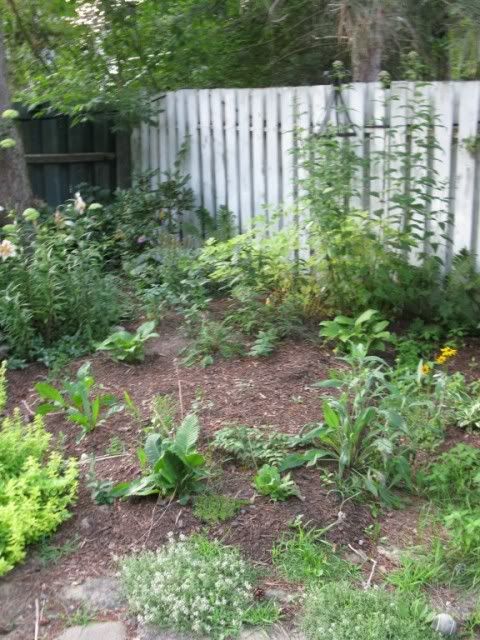 Very pleased with the improvement here. Not only has it filled in, but: colour! texture! variety of height! If I could manage more of the same that would be awesome. Maybe I should try some begonias or impatiens here and there...
Also, check out the results of Operation Sudden Lily Beetle Death. Bliss. Ed Lawrence seems to think that the key is getting the drop on them early in the season, combined with ongoing vigilance. Will have to try to duplicate these results next year.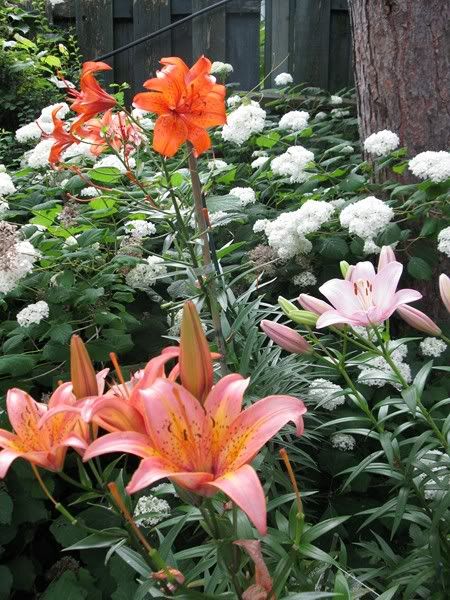 Side bed, 2011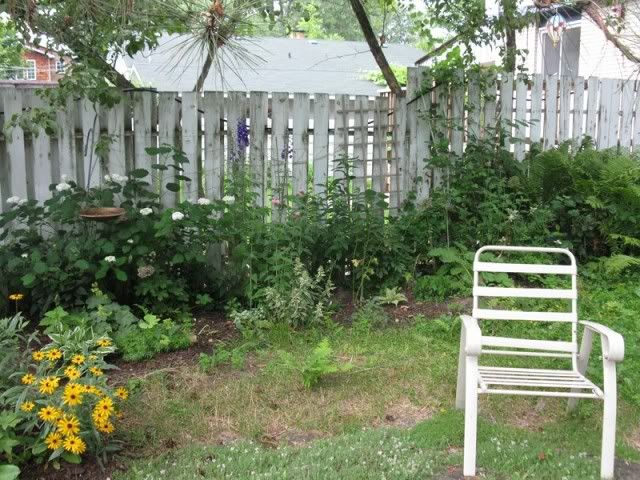 2010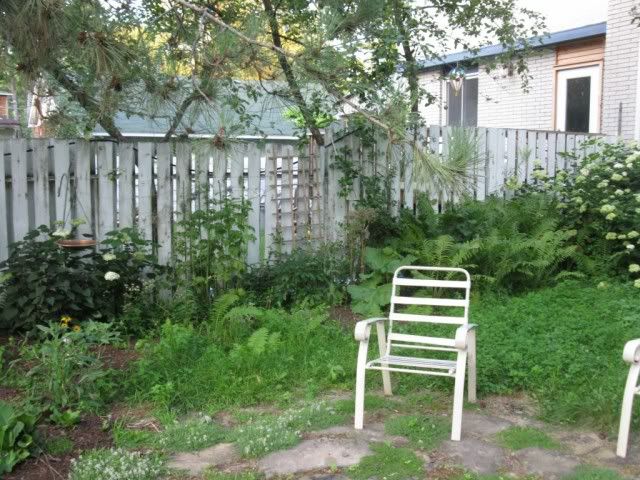 Well, I struck a blow against the ferns of insanity, anyway. And the bee balm makes a nice combination with the delphiniums (which I think were a little early last year due to freakish weather):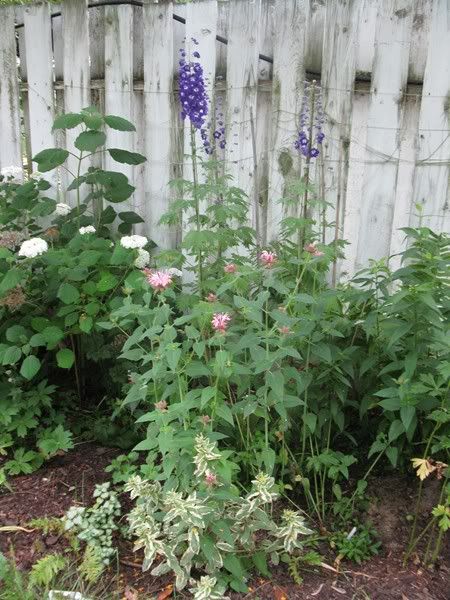 The hydrangeas, as previously mentioned, need to be beaten back, as does the stupid grass, and there's a peony and a rose that compLETEly do not belong here - I will move them in the fall and replace them with another clematis, I think. One that blooms nowish, if I can finangle such a thing.